Choosing the best HR certification for professionals in 2021
10 Jun 2021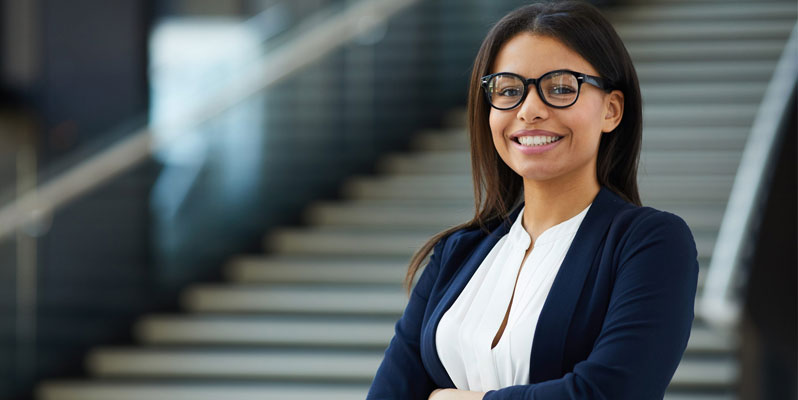 Why do young professionals choose to embark on HR careers? Several reasons come to mind:
HR directly works with people, who have been recognized as the most valuable resources for an organization.
An HR professional gets to be at the forefront of the business with work extending across departments.
HR regularly secures high positions on lists of the best career options.
The numbers ring loud!
The US Bureau of Labor Statistics (BLS) projects the following growth rates through 2028 for different HR roles:
Across the board, the opportunities are there, and growing fast!
What are the relevant qualifications for an HR career?
As with most professional fields, an undergraduate or graduate degree in the core area – in this case, human resource management – or in related subjects is advisable. It may not be compulsory, but it sure makes the entry into the field much easier.
Of late, though, a qualification that has been picking up pace is online HR certifications. And given that most people are locked in at their homes, there will scarcely be a better time to pick up new skills. Books and podcasts are good sources, though nothing really can beat one of the best HR certifications delivered online.
Here is where a human resource certification comes in.
An online HR certification refers to a set of credentials issued online by a reputed, respected HR authority testifying that the holder possesses the most current knowledge in HR strategy and management.
A great way to expand an HR skillset, a certification is among the best options in online HR programs, compulsory though it may not be as a means of picking up skills or advancing careers. An online certification in HR offers up-to-date, excellent practical skills and top-class hands-on knowledge for an edge in talent management, retention, and other responsibilities handled by HR professionals.
Want to know how to recognize one of the best HR certifications delivered online? These are the top features: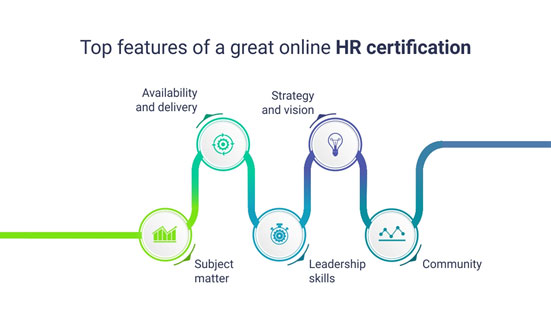 Subject matter: The content coverage must meet your particular requirements or those of your firm.
Availability and delivery: The content should be available on a flexible schedule, as well as on different devices.
Leadership skills: These require extensive coverage as they are very important for an HR manager.
Strategy and vision: Including these as part of the certification will help HR professionals to facilitate the attainment of organizational goals.
Community: A network of instructors and applicants for the certification under consideration or at the organization offering the certification facilitates the sharing of knowledge and experience.
Does certification help?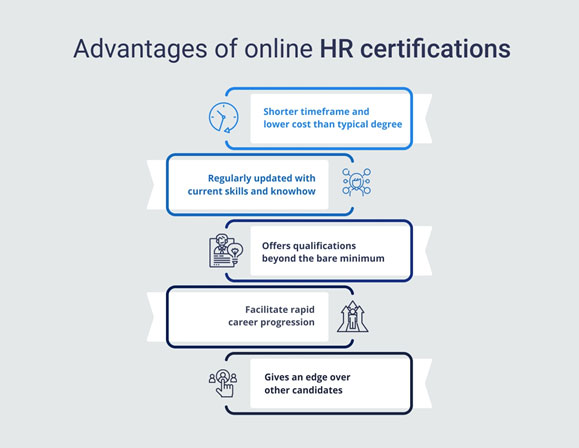 As a type of online HR program, a certification provides credentials that can help to land a more prestigious HR job and to climb the HR career ladder more rapidly. This is achieved typically in a shorter timeframe and at a lower cost than those of regular degrees or other alternative qualifications. Such a credential is updated more regularly than other programs, thereby ensuring the holder has the latest skills and knowhow required in the HR field, which in turn help to improve productivity. It conveys to the recruiter that the candidate has qualifications exceeding the minimum of what the job requires. With all these pluses, it is no surprise that an HR certification holder has an edge over competing candidates.
Which are the top institutions offering online HR certifications?
Making a choice among the top online HR certifications is not easy. Below are the top institutions and their best offerings:
ATD works to improve the abilities, knowledge, and skills of professionals at the workplace in the area of talent development. The membership base spans 120 countries and covers organizations across sectors and of all sizes. Here are two of the certifications on offer:
Associate Professional in Talent Development (APTD): This is for talent development professionals with at least three years of experience. Such candidates focus on foundational areas of HR and talent development, and APTD helps to develop a strong base in solutions and strategies aiding organizational success.
Certified Professional in Talent Development (CPTD): Talent development professionals with at least five years of experience can opt for CPTD. It assesses their knowledge and skill across the talent development domain, and focuses on decision-making and application of skills.
TMI offers credentials, knowledge, and standards that aim to overhaul the use of human capital to facilitate organizational success. It wants to make talent management the engine that powers organizations toward future success. Here are two of the certifications from TMI:
Talent Management Practitioner (TMP™): TMP™ validates that the modern HR practitioner has immense potential and promise. It is an excellent first step in launching a talent management career, especially given the plateaued growth in traditional HR positions. TMP™ reengineers the understanding of the role of talent, with a solid grounding on the globally tested TMI Universal Knowledge Framework (TMI-UKF™).
Senior Talent Management Practitioner (STMP™): Targeted at a mid-career HR professional seeking a high-demand talent management role, STMP™ facilitates a transformation into a qualified HR specialist. Candidates have advanced skills in dealing with a dynamic business landscape, changing workforces, and HR accountabilities to the business.
HCI aims at better business results through proper alignment of human capital strategies with business strategies. It leverages a vast reserve of learning resources based on research, and aims to drive transformation on organizational and personal fronts. Following are two of its best HR certifications:
Strategic HR Business Partner (SHRBP): SHRBP helps to create HR professionals who can bring about strong business impact with people initiatives. It incorporates best practices from organizations with strong HR structures in an intensive, hands-on learning experience along with a real business challenge.
Strategic HR Leadership (SHRL): SHRL targets better team performance for improved people leadership capabilities. It helps to understand the linking of team work to business strategy and create learning plans for team members. It also facilitates better, purposeful team design and interaction as well as influence outcomes.
SHRM works to create better workplaces through thriving employees and employers, looking at relevant issues for the modern workplace. It has a membership base across 165 countries with more than 300,000 business executive and HR members. Here are two SHRM certifications:
SHRM Certified Professional (SHRM-CP): This is for HR professionals who handle operational HR as well as the implementation of policy and strategy, along with serving as points of contact for stakeholders and staff. It is targeted at candidates with 0-3 years of experience.
SHRM Senior Certified Professional (SHRM-SCP): SHRM-SCP certifies knowledge in strategy development, HR leadership, performance analysis, and strategy alignment with organizational goals. Candidates have at least 3-7 years of experience.
The last word…
Among the top online HR programs, a certification is a great choice for an HR professional who wishes to refresh his or her knowledge and skills in the field. It boosts candidature for top HR positions and could be just the catalyst that an aspiring or experienced HR professional needs!