Why HR careers benefit from global HR certifications
02 Jul 2021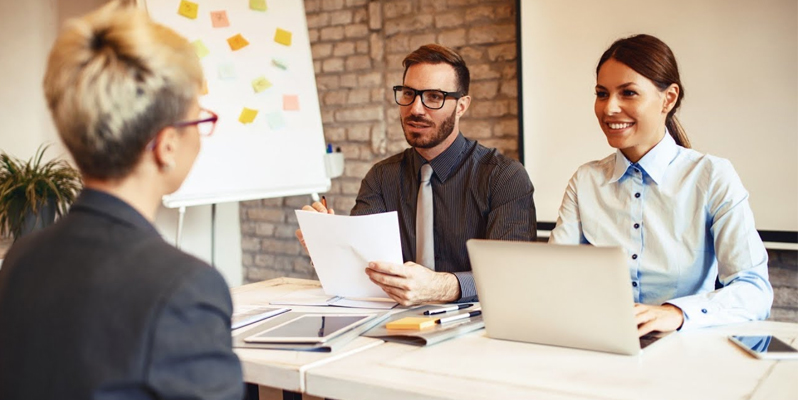 When it comes to HR practices, these do not operate in a standard form and context. Changing local laws and culture as well as business scenarios exert their influence, though the underlying core principles remain the same, backed up by knowledge and evidence gathered over time.
This explains the importance of a global HR professional who, in the course of his/her HR career, plays an important role in the operations of not just the HR department but the entire organization. People remain the most critical organizational resource, and with them being more connected than ever, global HR professionals are in high demand.
Global HR professionals face several issues.
In the course of their work, global HR professionals encounter several business issues. The key matters of concern are the following:
Economy: Changing labor force availability and labor markets, currency and inflation, competition, corporate social responsibility
Talent environment: Workforces that are increasingly mobile courtesy eased trade and visa restrictions and technological advances
Cultural diversity: The need to understand and reconcile different cultural norms, gestures, power relationships, performance management, and other concerns on a country-by-country basis
Agile reward systems: Effectively applying global total reward systems – base compensation, benefits, and variable pay – basis employee expectations and home country norms
Privacy and technology: Understanding and following data collection, privacy, and technology regulations, and keeping data safe
Managing global leadership: Handling differences between global leaders, including agility and flexibility, appreciation for cultural nuances, and international business experience
Managing international assignments: Properly handling expatriation and repatriation through assessing and preparing the assignee by considering multiple factors
Becoming a global HR professional requires proper preparation.
The role of a global HR professional is an attractive one to be aspired for in an HR career, and requires standing out from a crowd of aspirants to the role. Most employers seek at least a bachelor's degree in HR, though there is always the need for something extra to get an edge. It is important for the candidate to be conversant with:
HR processes: Founded on basic principles backed by evidence and sitting at the core of HR knowledge
HR practices: Context-specific, to be adapted to local culture and laws
A great option is to look for a global HR certification, which testifies to the candidate possessing the requisite skills and knowhow to tackle HR challenges at the world stage. The best HR certification tests candidates on critical behavioral and technical competencies and ensures that successful candidates have the abilities, judgment, knowledge, and skills to become successful global HR professionals.
Global HR certifications are important for HR professionals.
In recent years, HR professionals have increasingly recognized how important the right global certifications are for them. With employers competing as seriously as ever to hire the best HR talent, an HR certification has steadily moved from 'optional' to 'preferred', and now increasingly 'mandatory' in job postings. The growth in the tribe of certified HR professionals proves how this credential plays a fundamental role in tackling complex HR challenges across employee benefits, labor relations, payroll, talent management, and other areas.
Undergraduate degrees remain as the single-most important credentials, given that their absence makes it challenging to get an HR job. Once employed, though, a certification in HR became the most valuable and was seen as the most effective at developing the career of an HR professional.
The 'global' aspect of the HR certification remains critical.
It is important to consider the value of a particular certification in HR outside of the issuing country. By definition, a certification typically is valued within its home country, though it may not be so well known and hence valued in other countries. This often is because of the focus on domestic rules and regulations and the lack of an international focus, leaving the candidate inadequately prepared to handle HR challenges of another country.
The timing is important, given how the world is in the grip of the pandemic. Businesses have halted or slowed down, and life is often at a standstill. The new world of work is dotted with furloughs, layoffs, and remote work. This makes it an even better time to upskill and reskill, and be ready to grab the best professional opportunities when things look up.
Global HR certifications must focus on several aspects.
The best HR certification at the global stage focuses on basic principles that serve as baselines for practicing HR professionals. The global dimension helps an HR professional to perform well at the international stage, backed by knowledge of a high standard. A certification of this type should cover: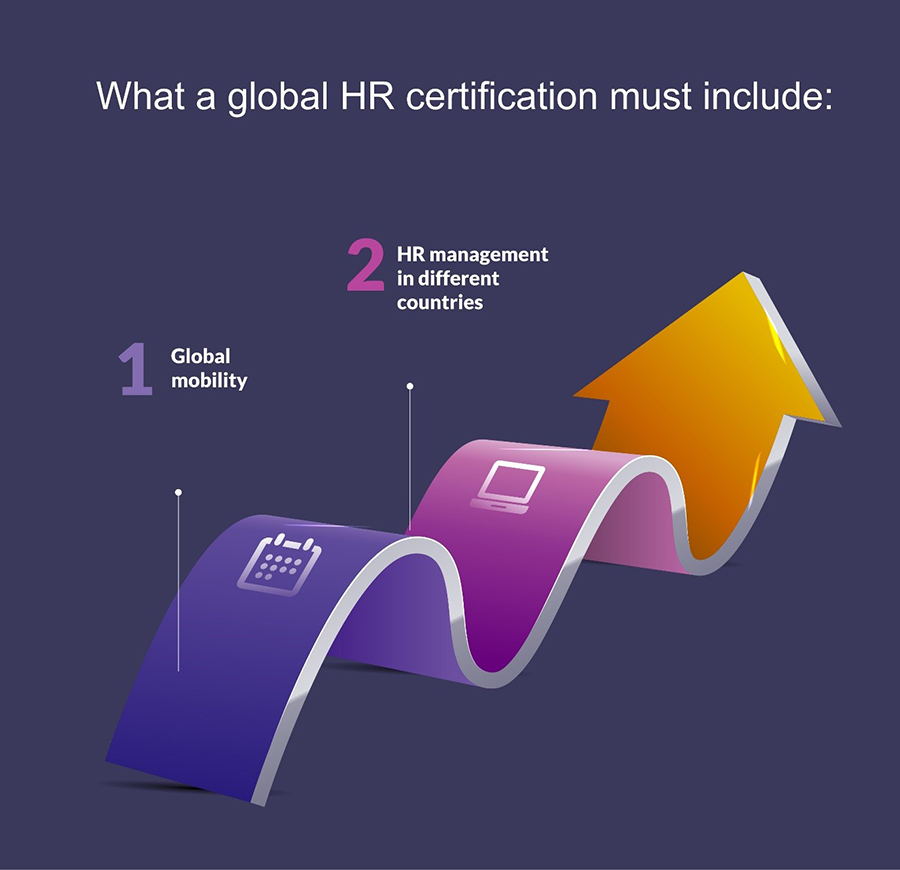 Global mobility: Concerns of employees crossing borders for work
HR management in different countries: How HR processes are managed in companies operating across several countries
Here are the challenges related to global HR certifications, and how they help employers and employees: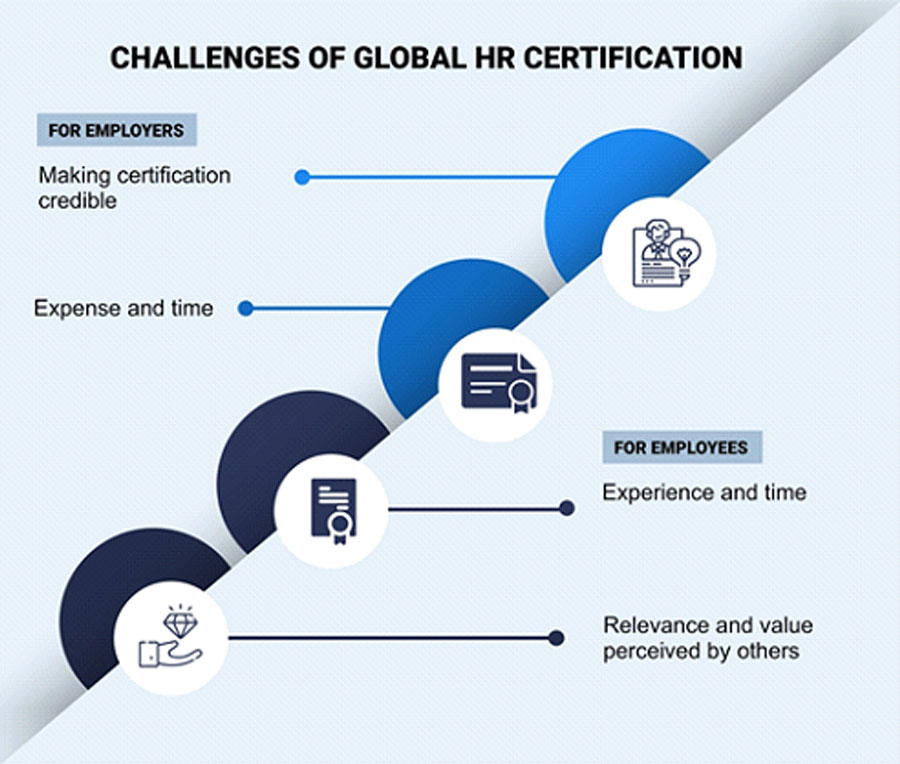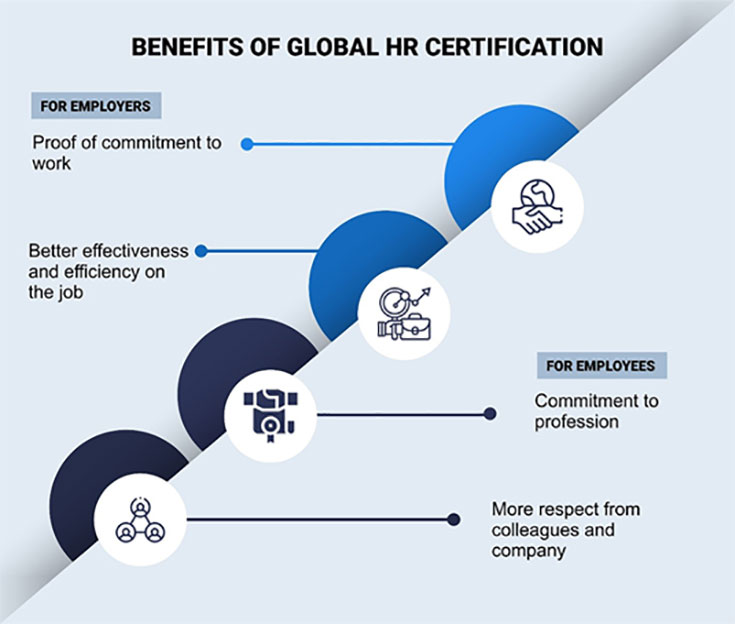 Professionals must maximize the value from global HR certifications.
Looking for a global certification in HR and choosing one are initial concerns; what is also important is to maximize the value obtained. The best ways to do this are:
Advise employees on how to obtain the right certification
Explain the benefits of the same
Provide funding for certification
Encourage application of certification knowledge on the job
Pick from among the best global HR certifications.
Many choices are available for the best HR certification at the global level. Here are some great choices:
Professional in Human Resources – International™ (PHRi™): Offered by the Human Resource Certification Institute, PHRi™ proves the candidate has mastered operational and technical HR principles applicable across geographies. Key areas of coverage include talent acquisition, HR administration and shared services, and talent management and development.
Global Talent Management Leader (GTML™): From the Talent Management Institute, the GTML™ is among the most prestigious certifications to help mid-career HR and talent management professionals ascend their career ladders into the positions of global heads of HR and talent management. Fleshed on the only global talent management knowledge standards, GTML™ focuses on how business results can be driven and optimized with a multi-cultural approach and mindset toward talent management for a globally-diversified organization employing workers from different cultures.
SHRM Senior Certified Professional (SHRM-SCP): Offered by the Society for Human Resource Professionals (SHRM), SHRM-SCP is for HR professionals tasked with leading the HR function, fostering community influence, analyzing metrics on performance, and ensuring alignment between HR and organizational strategies.
The last word…
When it comes to deciding to take up a global HR certification, the choice seemingly is easy, given the immense benefits on offer and the greater chances for professional success. It is important to consider the geography where the person proposes to work and the validity or recognition of the certification therein; also, the eligibility criteria differ vastly.
Career outlooks remain bright for an HR career, more so at the global stage. With globalization being an ever-present challenge and demand for certified professionals being high, the right background makes it much easier to land a coveted HR job fast, particularly in international companies looking to compare workforces across borders and thereby seeking globalized credentials.