Top HR Skills Employers Seek in HR Professionals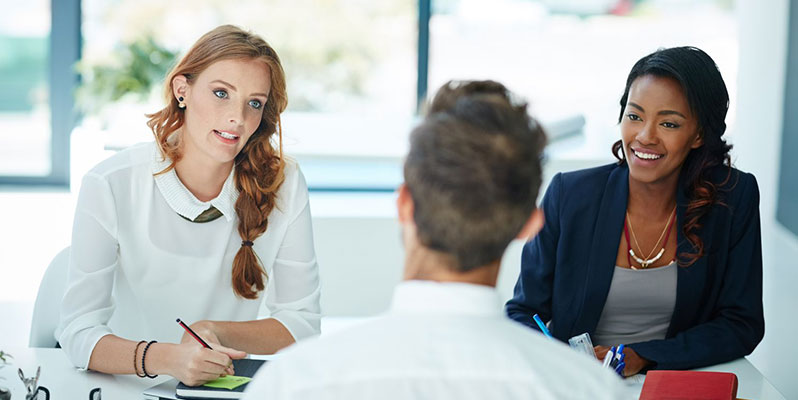 Today, HR is no longer restricted to performing only administrative and compliance-driven jobs. The role of HR professionals has expanded tremendously. Their contribution to elevating organizational growth cannot be understated. The HR department is responsible for hiring the best talent from the market who can collectively augment the revenue, increase profit, and build a positive brand image for the company. They also work to create a stress-free, safe, and amicable work culture in the company.
HR professionals are the backbone of the company and need to have a specific skill set, which allows them to excel in their job and helps them match the company's objective.
Key HR Skills for HR Professionals
Over the past few years, HR skill sets have significantly transformed. Considering the modern work culture, they need to adopt varying skills to manage the new workforce generation. Modern HR needs technical knowledge and soft skills to succeed in their role. Possessing and honing these skills help HR professionals grow individually and contribute to the company's growth.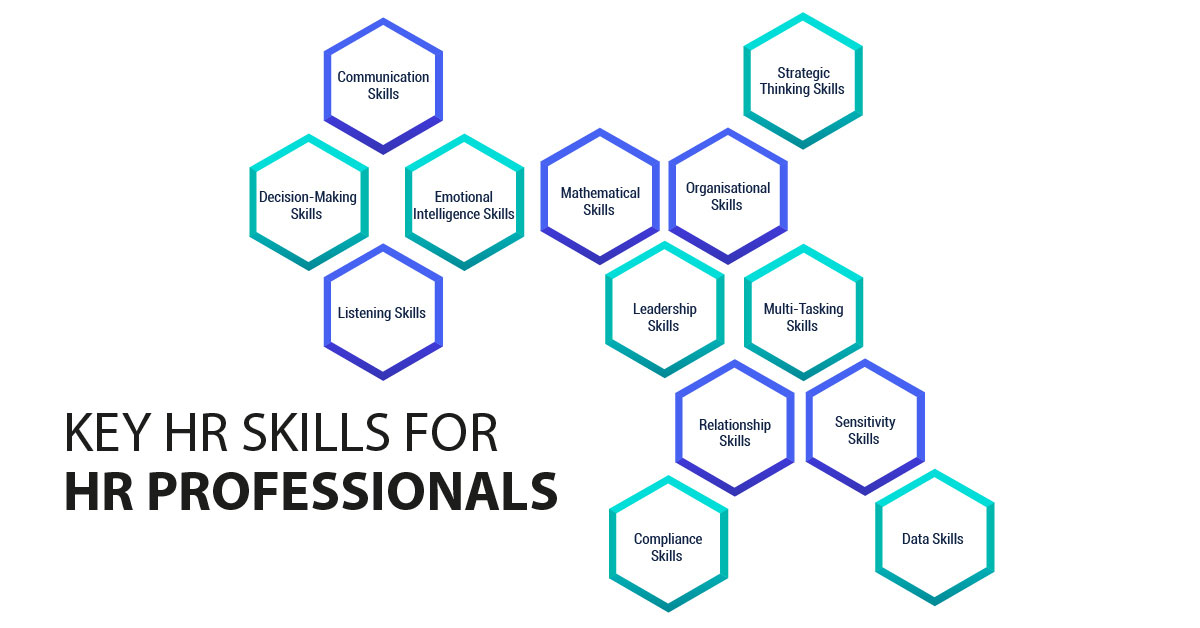 Communication Skills
HR professionals must speak to applicants detailing their interview process, onboarding procedure, job description, company policies, etc. They also regularly speak to their superiors from the management team, explaining the current vacancy, employee engagement programs, compliance issues, etc. They are the link between top management and employees. HR professionals must acquire excellent verbal and written communication skills to handle such responsibility.
Decision-Making Skills
HR has a lot to do with frequent decision-making. Decision-making skill is key to performing critical organizational functions. For example, one of the most challenging situations is during the downsizing. Also, when they handle the recruitment process, they are the ones that shortlist the candidates based on experience, profile, salary package, etc. If the position is for only one role, and several candidates have applied, they need to decide which candidate is best for the job. Recognizing the right candidate needs skill and strategy.
Emotional Intelligence Skills
EI has also become a critical skill for HR professionals. It is imperative for the HR to manage their emotions while putting themselves in the employee's shoes to understand their concerns and grievances.
Listening Skills
HR professionals should lend their ears, build a conducive environment, and encourage the staff to share their concerns. They must develop a knack for understanding whether the employee lacks productivity due to the excessive workload or low salary. Does the employee have a conflict with their colleagues? Does the employee feel unheard and unimportant?
Mathematical Skills
One of the essential HR roles is to design employee compensation and benefits. The salary package includes complicated items like PF, Gratuity, Tax deduction, and Cess, among other charges. The HR needs strong finance and mathematical skills to understand this. They also need to consider the company's budget, which needs another level of mathematical understanding. HR often involves cost-cutting or limiting spending by avoiding unnecessary expenditures. All of this needs the person to become a pro in calculations.
Organisational Skills
HR is a mixed bag of recruitment, training and development, performance management, talent management, employee engagement, retention, etc. They need to organize all these processes. They also organize the documents, including legal documents, employee profiles, company confidential papers, etc. With so many processes and sub-verticals, the HR professional must have organizational skills to manage these tasks efficiently.
Leadership Skills
The leadership skills make the HR professionals become a guide for the company employees. New employees especially connect with HR for their problem-solving. HR department leads the people and helps them become leaders, too. They are also skilled in cultivating a company-wide leadership culture so that the organization has several problem-solvers.
Strategic Thinking Skills
The strategic thinking is important HR skills for the professionals to take the company to new heights. They must devise strategies that can aid the company to gain a competitive edge by hiring the best employees and retaining them. They also need to think strategically to assess the needs of different departments, engage the employees, and find ways to increase their productivity for company success.
Multi-Tasking Skills
On the one hand, the HR person would be working on selecting candidates for the interview, and on the other, they must be involved in planning training programs for the existing staff. Similarly, there are many HR functions that they must manage. They must have multitasking skills to handle all the tasks efficiently and timely.
Relationship Skills
One of the most vital skills for the HR professional is the ability to build relationships. While sticking to professional relationships, they need to create a sweet and empathetic bond with others in the company. This helps them connect better with the staff in the organization and manage their disputes and conflicts. They also need relationship management skills to create harmony in the company.
Sensitivity Skills
HR's sensitivity management skills mean they should identify hazardous and detrimental things in the organization. They must work to maintain a safe work environment. A safe and risk-free working environment for the staff would mean the absence of harassment based on caste, religion, color and sex. Since multinational companies house employees from diverse cultural backgrounds, they need to maintain intercultural sensitivity.
Compliance Skills
The HR professionals must remain updated with the latest changes in labour laws and regulations. It will ensure that the organization's policies and practices always comply with the country's legal mandates. This will mitigate any risks and serious legal issues.
Data Skills
According to the surveys, 80% of small US businesses use HR software. HR professionals must learn to use data, software, and new technologies to work more effectively. HR reporting skills are also increasing in demand. You must create, read, and understand HR reports as an HR person.
Why is it important to have HR Skills?
The HR professionals who can acquire these skills certainly have more successful careers.
They experience better job satisfaction.
Since they have a deeper knowledge, they gain more confidence.
They get more value in the job market.
They get more promotions or higher-paying roles due to their expertise and proficiency.
They are better equipped to create a positive organizational culture and improve employee engagement, pushing organizational growth.
Skilled HR professionals can cut costs and increase profit for the organization by optimizing processes.
How To Improve Your HR Skills
Now that you know what are the most essential HR skills and their importance, it is also crucial for you to know how to develop these skills.
Enroll in HR courses and certification programs
Go for offline or online HR certification programs. It helps you understand the basics and advanced HR process. These courses impart deep knowledge and aim to build imperative skill set so that the candidates can advance their HR careers. The certification programs will hone your technical and soft skills and provide you with valuable credentials. You can do these HR courses while doing a job, too. So, to stay ahead in the competitive game and succeed when applying for a job, go for HR certifications.
Network
Ensure to attend industry HR events. Join HR community groups on the online platform to interact with industry experts. Connect with people across different social media channels. Get involved in the discussions, ask questions, share the latest from the industry, and learn collectively.
Find a Mentor
Suppose you can get some quality lessons from a seasoned HR professional; nothing like it! This serves as a great learning tool. A great mentor or coach acts as a catalyst in honing your skills. They can offer relevant guidance, advise you about your unique circumstances, navigate your career, and help you make difficult decisions. You can find one within your organization or from your professional institute.
Research
Do not stop learning ever. Keep researching to find the latest industry know-how. Know the best practices, policy changes, trends, etc., to develop HR skills. Read HR journals, publications, HR blogs, newsletters, and more.
Look for training opportunities
Look for opportunities while on the job or studying. Going for the on-site training will allow you to gain real-life experience of working on live HR projects. You can sign up for various assignments and sharpen your skills. The idea is to get out of your comfort zone and experience the practical world. Team up with other HR professionals, learn and unlearn, and gain new HR insights.
Wrapping up
In the current business environment, the role of HR has become crucial. HR professionals are expected to have a range of skill sets. From strategic thinking to data analytics, compliance to communication skills, everything is important for an efficient HR management. Develop your skills to fulfil personal growth aspirations, aid organizational success, embrace exciting opportunities, and excel in your HR career.